Sukanya Majumdar invites us into her stunning home in Kolkata, one that is thoughtfully accentuated around the family's love for travel, art and history.
The location a person grows up in has an equally profound impact on them as the people they grew up around. It was the same for us, too. My husband and I have always lived in Salt Lake in Kolkata and we knew that this is the place we would always want to be rooted in.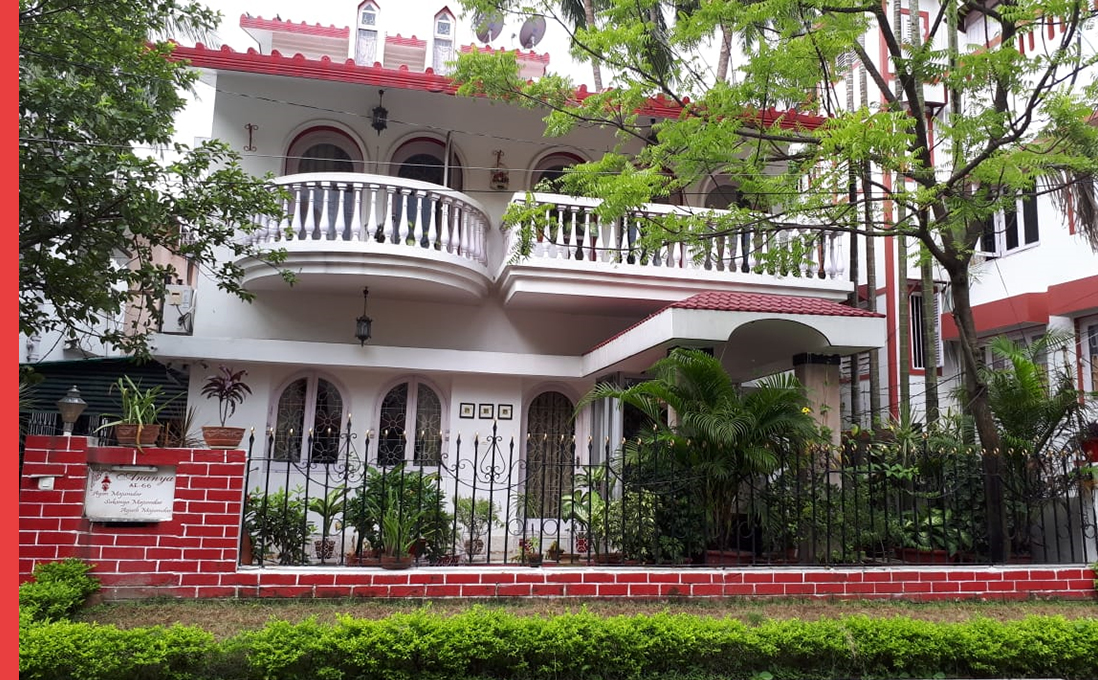 Sukanya's abode in Salt Lake, Kolkata
What we particularly liked about Salt Lake was the fact that there are no sky-rises here, but homely bungalows and a few small co-operative societies. We bought a bungalow of our own, an almost complete structure, in 2014. We wanted our space to be reflective of our style, personalities and the story we've built over the years with the people close to our hearts. So we treated it like a blank canvas and did up the interiors ourselves, with no help from designers and decorators.
The shift from an apartment to a single storey bungalow was exciting – I always loved the open feel of a bungalow. In fact one of the first changes we made to the house was to remove all the walls inside the house on our ground floor where our living and dining areas are located. This instantly opened up the area, made it more visually appealing and spacious. Our kitchen is in a separate room, of course. We also have a study room downstairs and three bedrooms on the top floor. Two of the bedrooms have spacious balconies and in addition, we have a small terrace with flowering plants.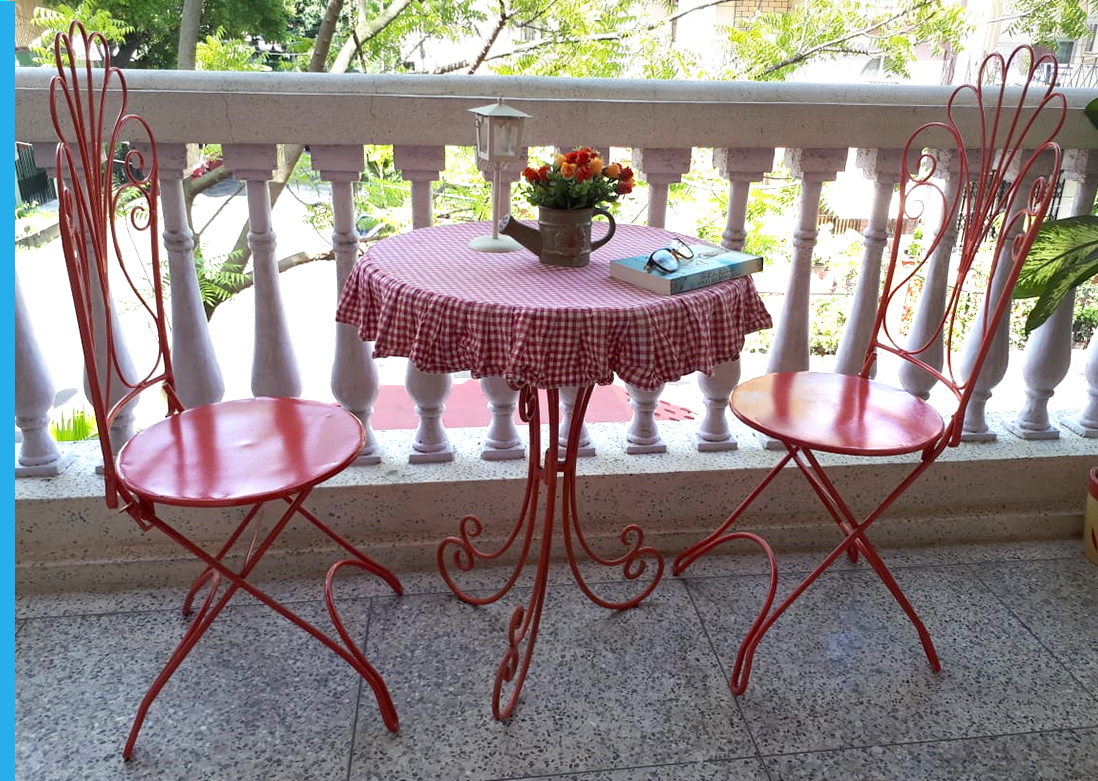 Wrought iron furniture is brought out during pleasant weather in the balconies
As individuals, my husband and I are old-souls who are not enamoured by modern interiors, and you will notice this the moment you walk into our home. Colonial-style furniture of wood and cane, and knick-knacks from our travel escapades have slowly found their way into their rightful places. As a family, our living room is where we retreat to watch TV shows, spend time with our friends over drinks and food, chat and make memories. This cozy space is craftily filled with chesterfield sofas, winged chairs in dark green leather as well as some wood and cane chairs. We even have a bar tucked in, made with wood and stained glass. This is a bright, airy space thanks to the French windows we've put up.
We are inspired by art and history, and we love collecting artsy, decorative mementos on our travels – a plate from Greece, one from Turkey, a little windmill from Amsterdam, and the like. It's like we bring home a piece of the country with us, to our little haven in Kolkata.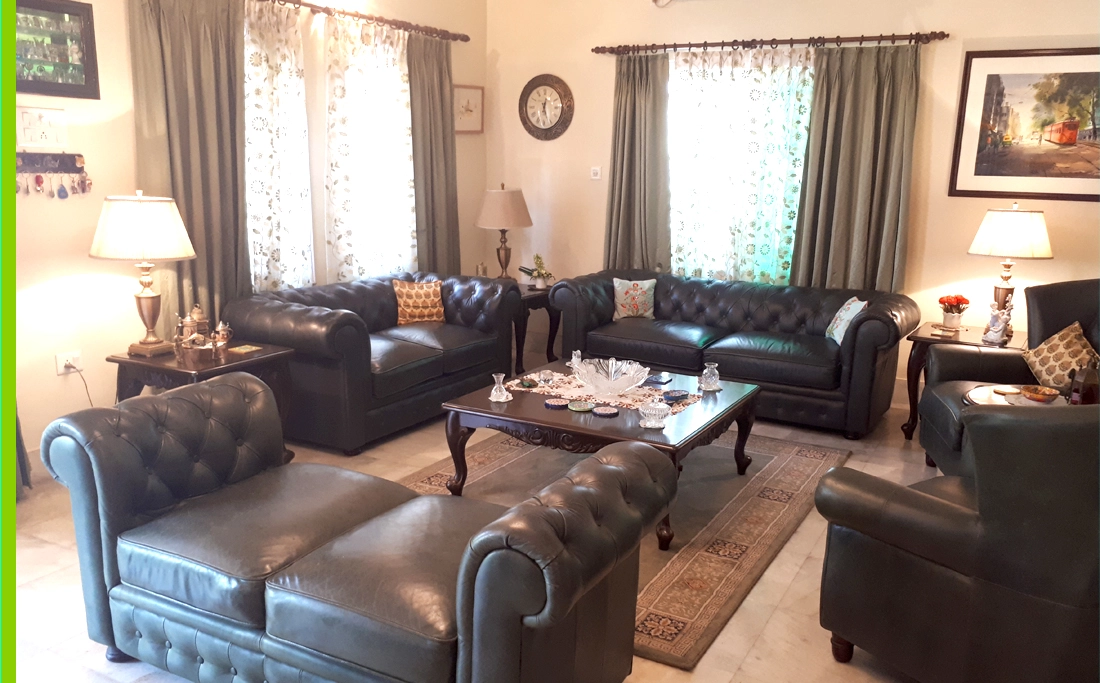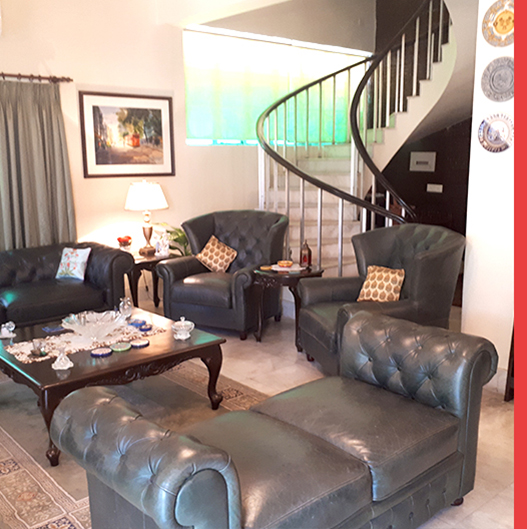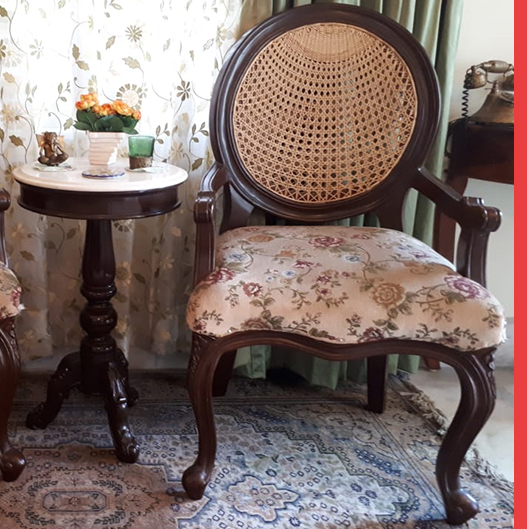 Sukanya's spacious living room, decorated with one-of-a-kind furniture from local markets and treasures from the family's travels. The arrangement on the center table came together after a lot of trial and error.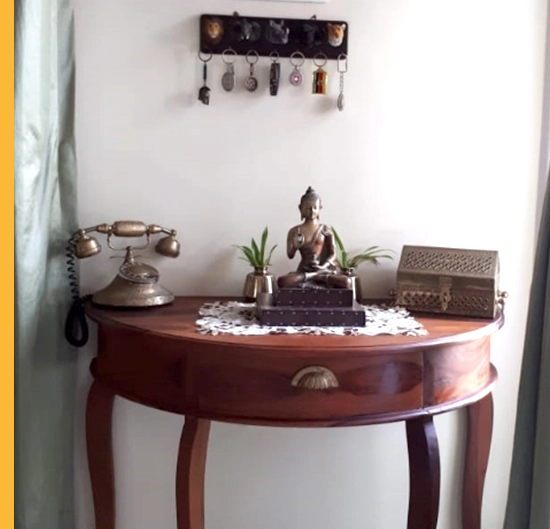 A key-ring holder, a statue of Buddha and plush antique furniture are a few of the hand-picked accents that make up the family's home in Kolkata
Most of the elements came together very naturally, and for others, we had to scout quite a bit, as many hand-crafted, vintage items aren't available anymore. However, I was certain that I wanted a large center-piece this as the main eye-catching element. After a few trials and errors, that too fell into place and now adds a generous amount of charm to our decor on the ground floor. It took us an entire year for our home to come together the way we envisioned, but it was a labour of love.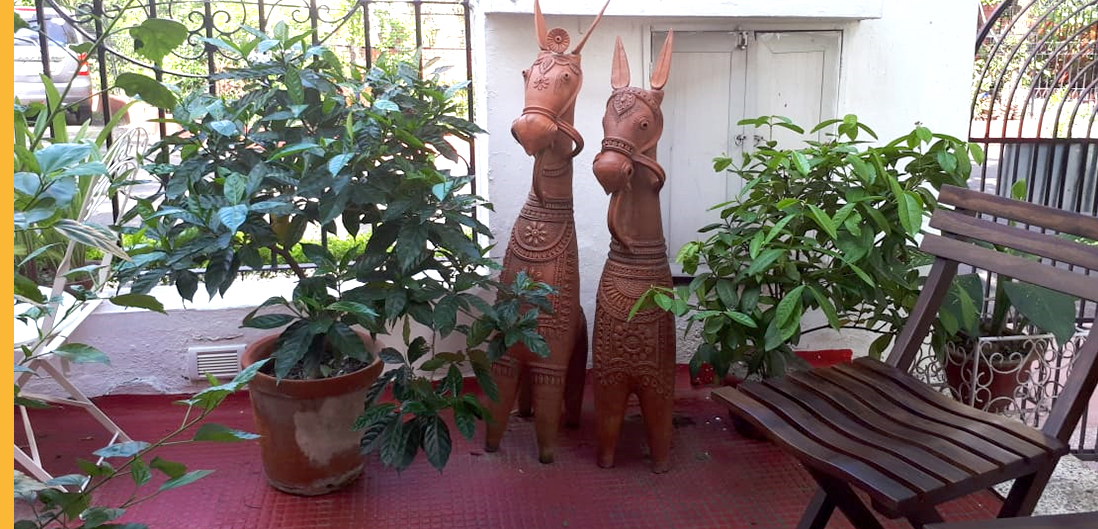 A generous use of terracotta and wood to create a stylish garden with minimum fuss
I didn't want to compromise on the furniture and I found that sourcing this locally was a much better option as opposed to ordering online.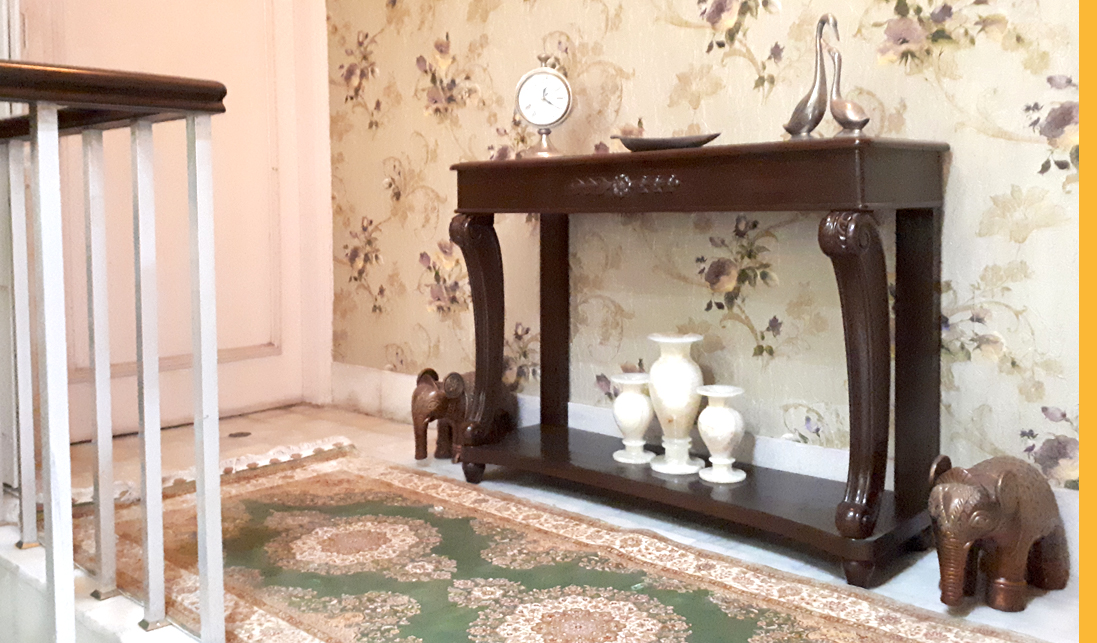 Bringing a bit of history to her home. Sukanya believes that furniture sourced from local markets adds a touch of old-school charm and more often than not, is cheaper than branded pieces.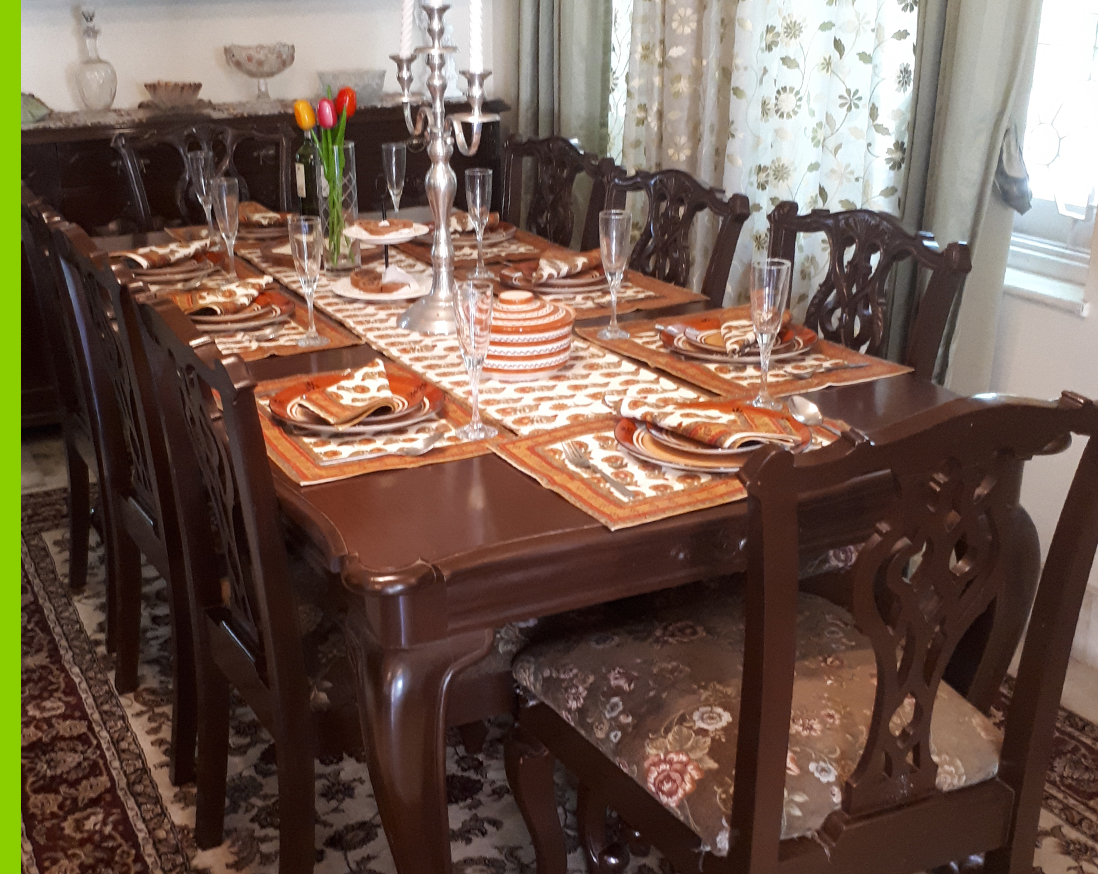 The dining area is a focal point of a home, and a set of furniture one is likely to buy only once. Sukanya's set features a sturdy, well-crafted table and floral cushioned chairs. The intricately embroidered rug adds a soft touch, making the space more comfortable.
My favourite spot is the garden and you'll find me unwinding on the swing therein every evening, listening to some soulful music. The garden outside our home is low-maintenance, yet it is replete with pretty plants that add pops of colour. But we didn't stop with just plants – we also placed wrought iron chairs that look like the timeless, classic ones in Paris. And whenever we organize a garden party, we brighten up the space beautifully with lanterns.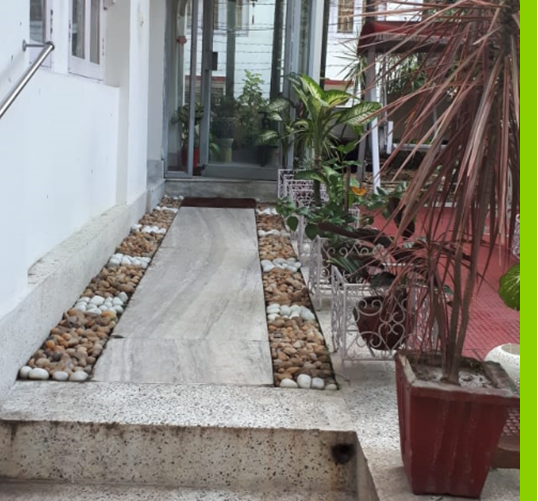 A fine example of mixed elements - wood, marble and terracotta feature in Sukanya's garden - her favourite place to unwind in, during the evenings.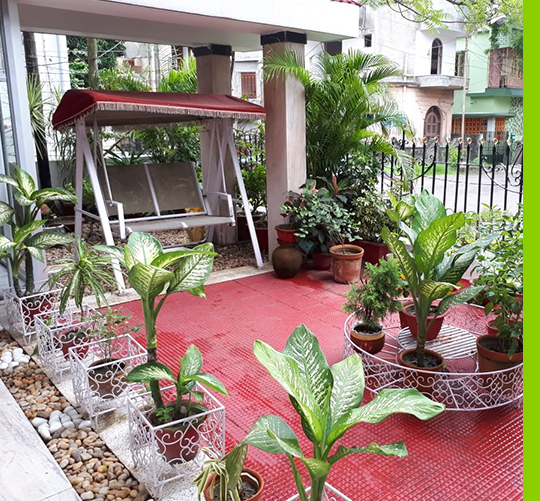 Adding a swing to the garden adds a playful element to an otherwise elegant home.
We want our home to have a warm, timeless ambience that makes visitors feel good when they visit, especially when they come from high-rise apartments. At the end of the day, no matter how posh a space you are in, you'd always love returning to a homely abode, wouldn't you?
For someone who'd like to do up their own home and has no idea how to get started, I'd like to share a few tips that I've learnt along the way.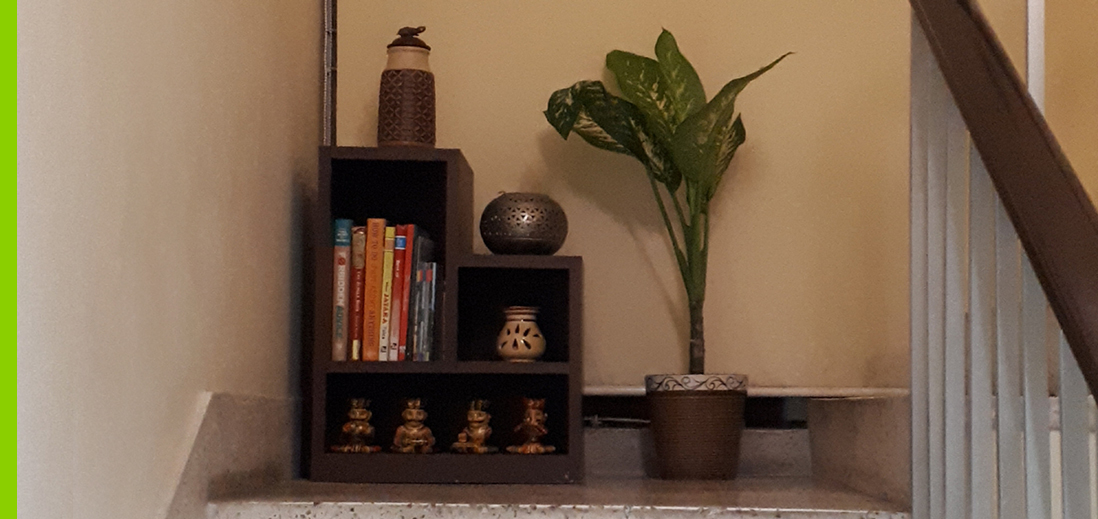 Add character to the small nooks and corners by placing various elements together
Lastly, your home is your intimate space. Let every element be a reflection of your family's style and interests.

Home calculations made easy to help you plan your home