When Padma and her family moved into a bigger home a few minutes from their old one, they left all their belongings behind and were tasked with setting up a new home from scratch. The family's habits and each one's preferences were taken into consideration to set up their bigger, brighter space.
My husband was born and brought up in Shivaji Park in Dadar, Mumbai. Being very attached to the area, we knew we would need to find a home here – in the heart of Mumbai. Suddenly, we got to know that the very next building, a chawl, was going to be redeveloped and we seized the opportunity to buy a flat there! After all, it was a stone's throw away from the schools, hospitals and the railway station that connects Dadar to every corner of the city.
We were actually looking for a 2BHK, however they only had one 3BHK available. We went ahead and booked it anyway because we have two children, two dogs, and my mother-in-law lives with us too, so more space is always a good thing, especially in Mumbai.
It was a 7 year wait until we moved into the home of our dreams! We had booked the house way back in 2010, but the development moved at a snail's pace and we had possession in 2017. When we finally made the shift, we took absolutely nothing from our old home to our new one – and purchased everything, from brand new utensils to the consumer durables.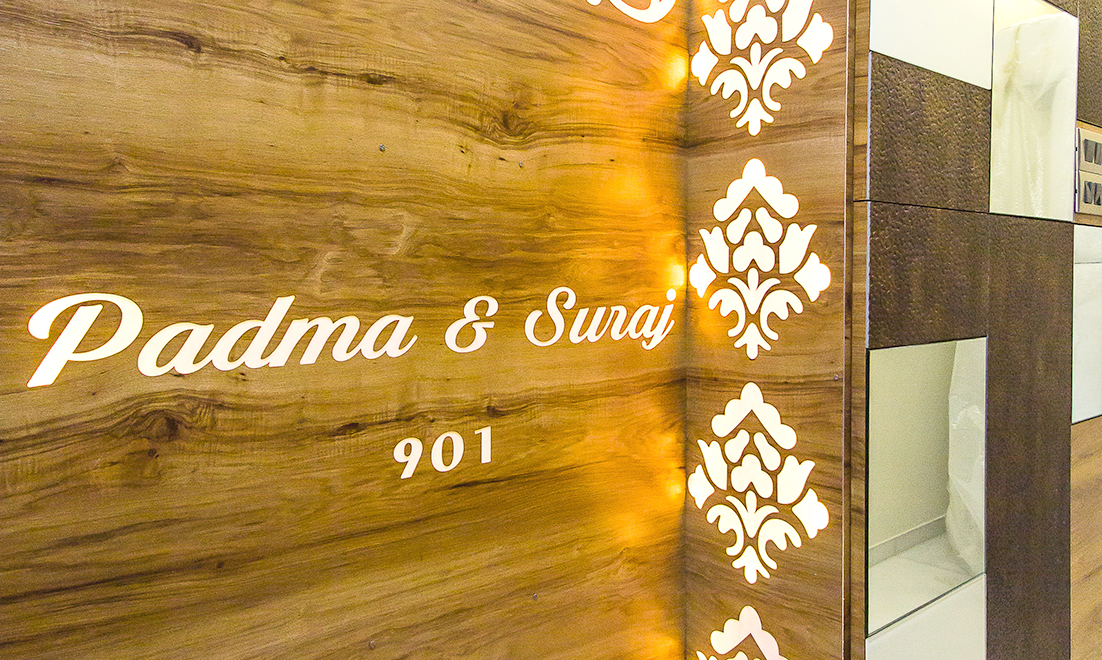 The entrance to Padma and family's new home
We spent 2 months working on the design of our home and gave the architect a very elaborate plan of what we wanted. While we wished to make a few structural changes, that didn't work out and we had to rework our plan all over again. This back and forth went on for months, and at last, in April 2017, the work started. Everything was quick and efficient, and in August, we moved in.
One of the first things we did was to change the flooring of the living room to marble tiles. I was clear that I wanted the house to be done up using a grey and white colour combination and our home décor fell into place around this theme. Choosing colours and marble for your house is an overwhelming chore – but it is satisfying to recall the memories once the house is complete and looks beautiful. In each room, we added colourful cushions and accents that added vibrancy to the space.
My daughter's room is the brightest one, located in a corner of the house. Done up in shades of green and grey, there are a lot of light effects and glossy laminates in it as per her choice, to make it stand out. In this room, we have two balconies and in one of them, we have installed a vertical garden – where we grow fresh herbs to cook with.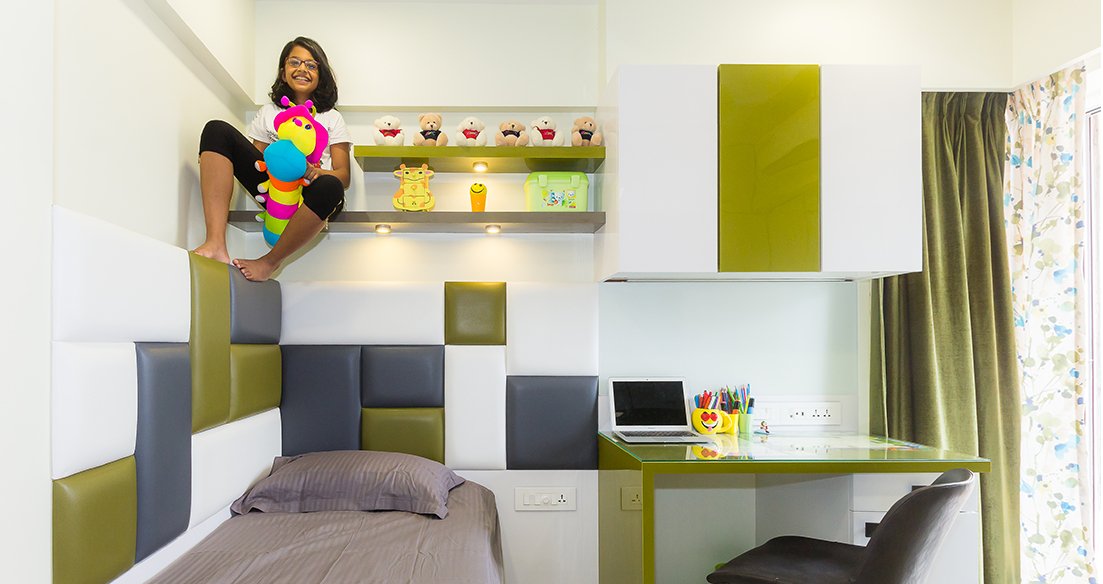 Padma's daughters room, done up in bright green – the child's favourite colour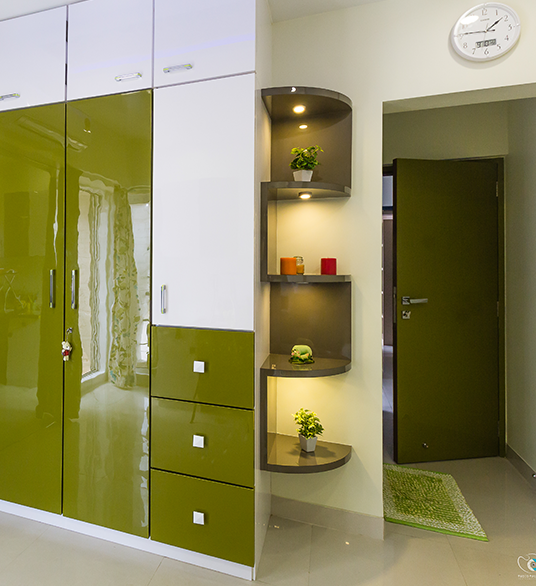 Every element in Padma's daughter's room centres around the colour green
Vertical Garden
My son's room is orange and grey – and unlike in my daughter's room, the orange here has a matte finish so that it doesn't appear gaudy. Being an avid reader, we have put up a shelf of books here and he spends all his free time reading.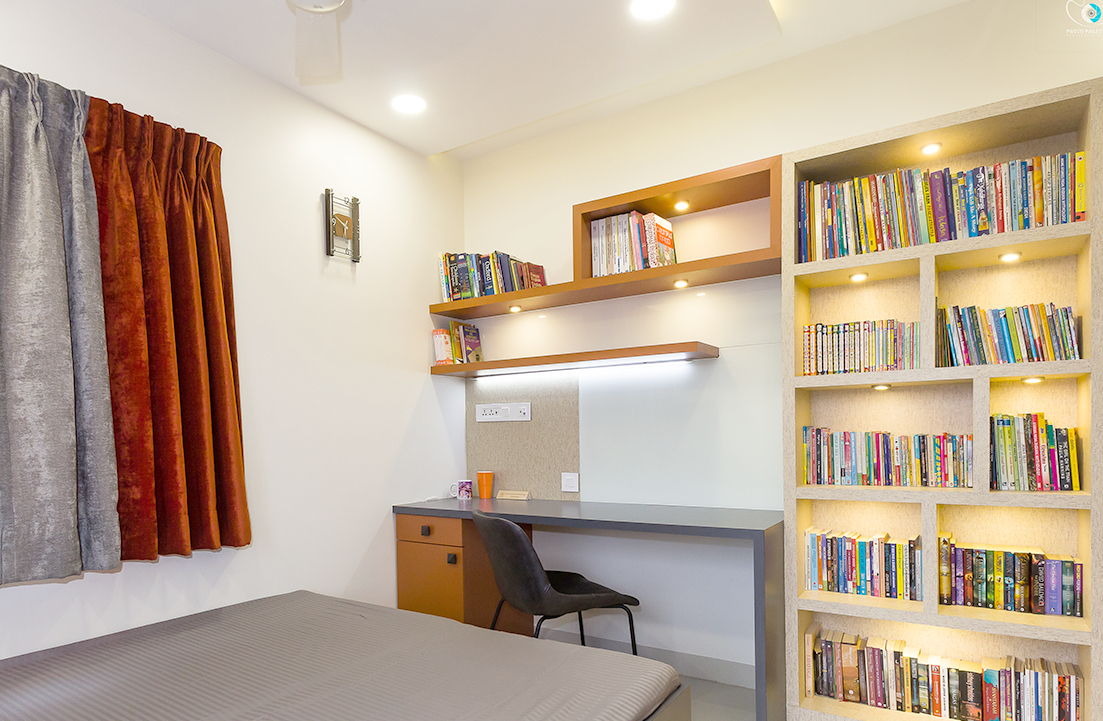 Padma's son's room – in shades of grey and orange with a bookshelf designed by her
We contemplated on where to keep the Puja area and after plenty of debating, it now occupies a corner of the living room. This worked out well because our Puja area is adjacent to where we place Ganpati during Ganesh Chaturthi. There is a folding table attached on which we keep prasad. While the designer wasn't in agreement to many of these nitty-grittys, I was very firm on what I wanted.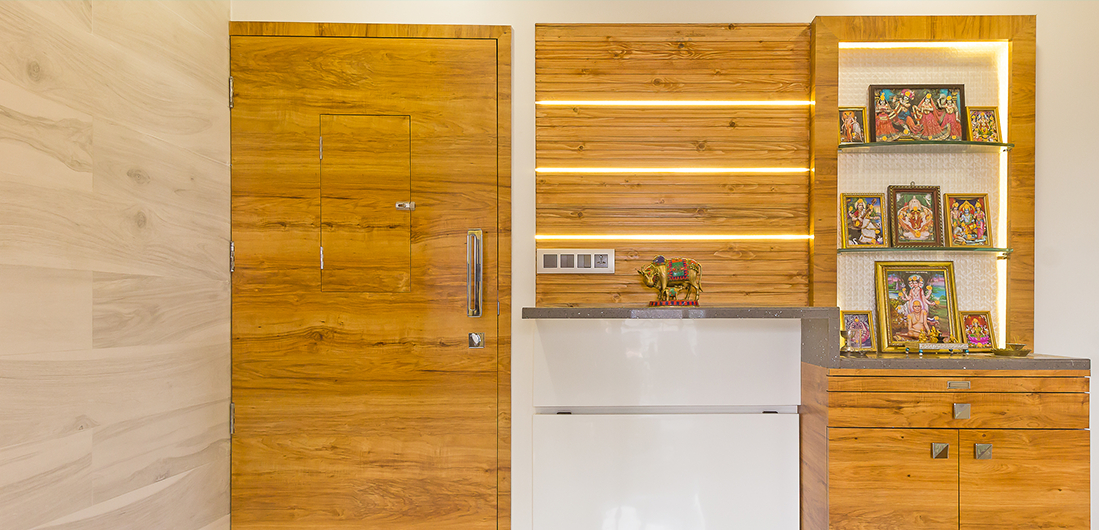 Puja Area
When it came to choosing colours for the house, I asked my designer for options. I immediately loved a shade of blue that she showed me and chose to have my kitchen in that colour, especially since we didn't use blue in any other room.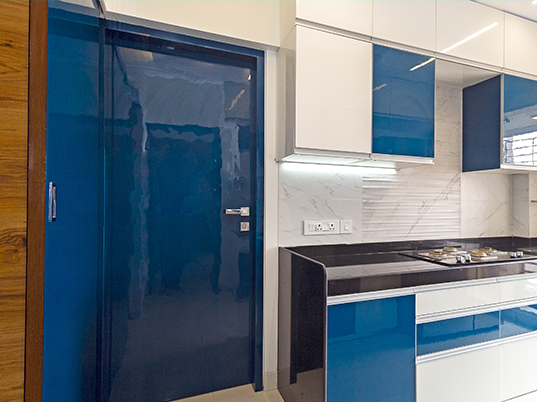 The sleek and spacious kitchen arranges in a way that facilitates cooking for a family of 6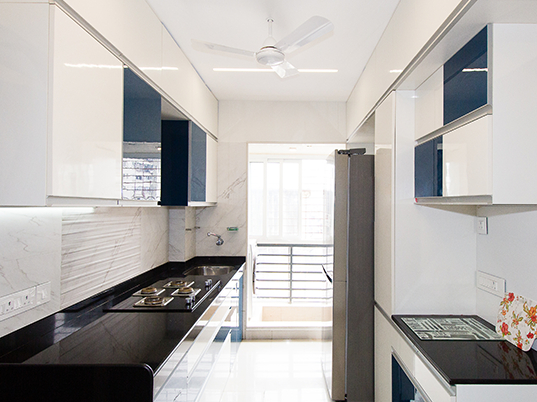 The kitchen at Padma's house with blue as the colour of choice
I left most of the décor to my designer, but I had a fair share of input. For example, I designed the bookshelf, the temple, the corner piece in my daughter's room. And in fact, almost everything, from the tiles to the décor and white goods is bought from Mumbai itself.
As a practice, we have always been eating while sitting on the floor and we didn't feel the need of a dining space. While we had a dining room in the earlier house, no one ever used it. The big centre table in the living room is used as a table for us to sit around and eat in the living room, in front of the TV. On weekdays, everyone eats at different times as per their schedules, but on Sunday, we enjoy lunch together as a family.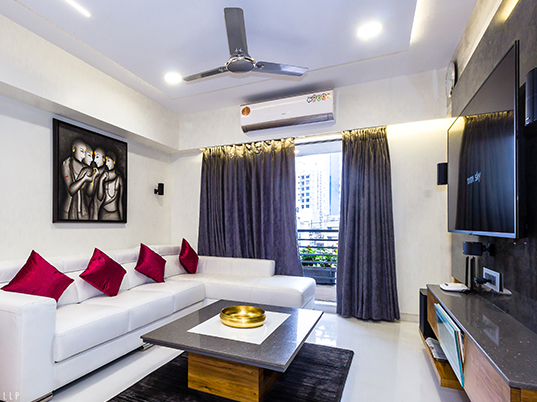 The family room, with marble tiles, grey-and-white colours and colourful cushions for vibrancy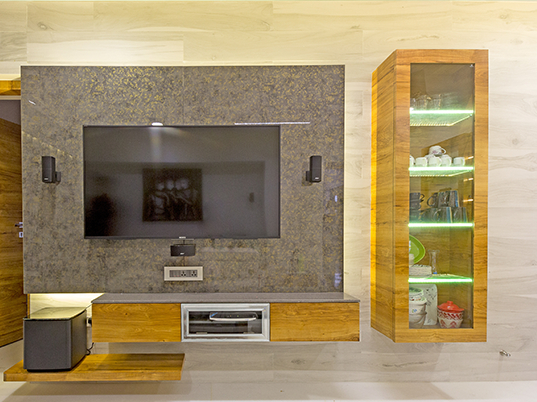 The family eats on the floor in the living room – and the space is designed keeping this in mind
The process of buying, renovating and decorating our home was definitely a herculean task, but we enjoy our time here, our space and definitely, the comfort it brings!

Home calculations made easy to help you plan your home