Jasmeet takes us through her experience of staying in a Middle-Eastern
-inspired house in the heart of Chandigarh.
The journey that brought us to our present home began almost 40 years ago. My father was in government service and he often got transferred, his last posting being in Chandigarh. When he finally decided to settle down, this was the place he chose – the picturesque and serene Sector 18 of Chandigarh.
The house that we bought then was actually a plot of land with a small two bedroom annexe. We stayed in the annexe for 2 years, before we began construction and eventually moved into our current home. My Dad, being a civil engineer, has a fair bit of knowledge about construction, and along with my mother, who has great aesthetic sense, played a big role in its construction. But the architecture itself was done by my dad's friend, an architect with the Sultanate of Oman.
Since we live in one of the oldest sectors of Chandigarh, you will spot many palatial houses of this size and magnitude, but what sets us apart is that we have a lot of Middle Eastern flavours incorporated in the architecture. For example, the beautiful arches that you see above the colourful glass windows and doors are not something you find in a typical Punjabi home in Chandigarh. Also, the slate tiles that make up the façade were bought from Jaipur by my father and are not easily available. In fact, the house became a kind of landmark, and people would come here just to see it.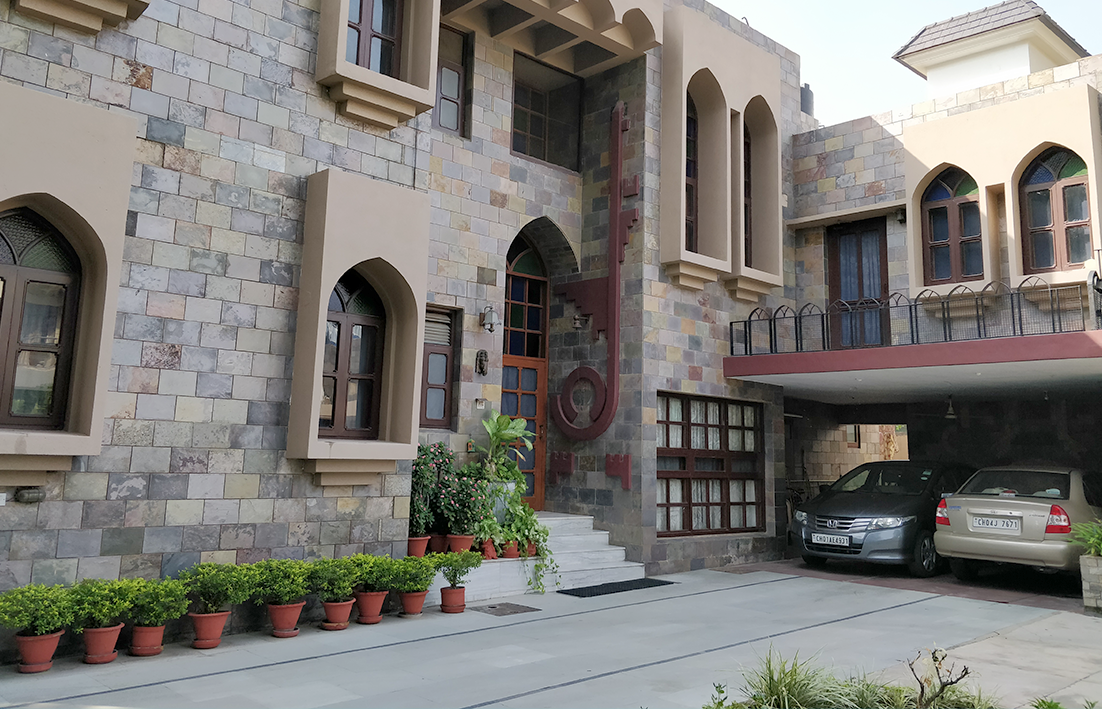 The view from the front of Jasmeet's palatial house in Sector 18, Chandigarh
Let me share a story that will tell you how passionate my dad was about the house. Once it was constructed, my Dad felt there was something amiss in the way the staircase was built. Any other family would have let it be as it was, as whatever flaw it had could only be spotted by a professional civil engineer or architect. But my Dad refused to have anything even remotely flawed in our home, and went ahead and demolished and rebuilt the entire staircase, this time to the exact specifications and design.
The spiral staircase, which was re-built by Jasmeet's father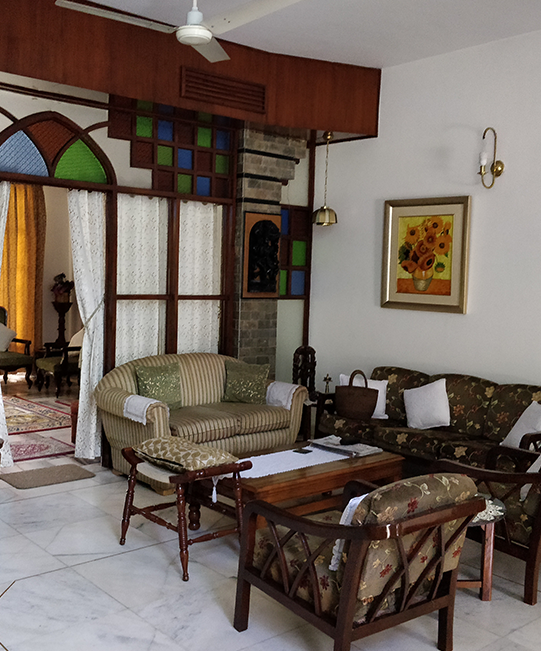 The Lobby in Jasmeet's house with marble flooring
Our 5 bedroom home has two floors (G+1) – with the living room, dining area, kitchen, washing area, bedrooms and a prayer room on the ground floor. Upstairs, we have a lobby, a study and 2 bedrooms. When we moved into the house, we were a family of 6 – my parents, two siblings, my grandfather and me. But since my siblings are married and live away from home, the house seems too large for my parents and me, so we have rented out a portion of the top floor, after creating a partition. This way, we have a smaller area to maintain.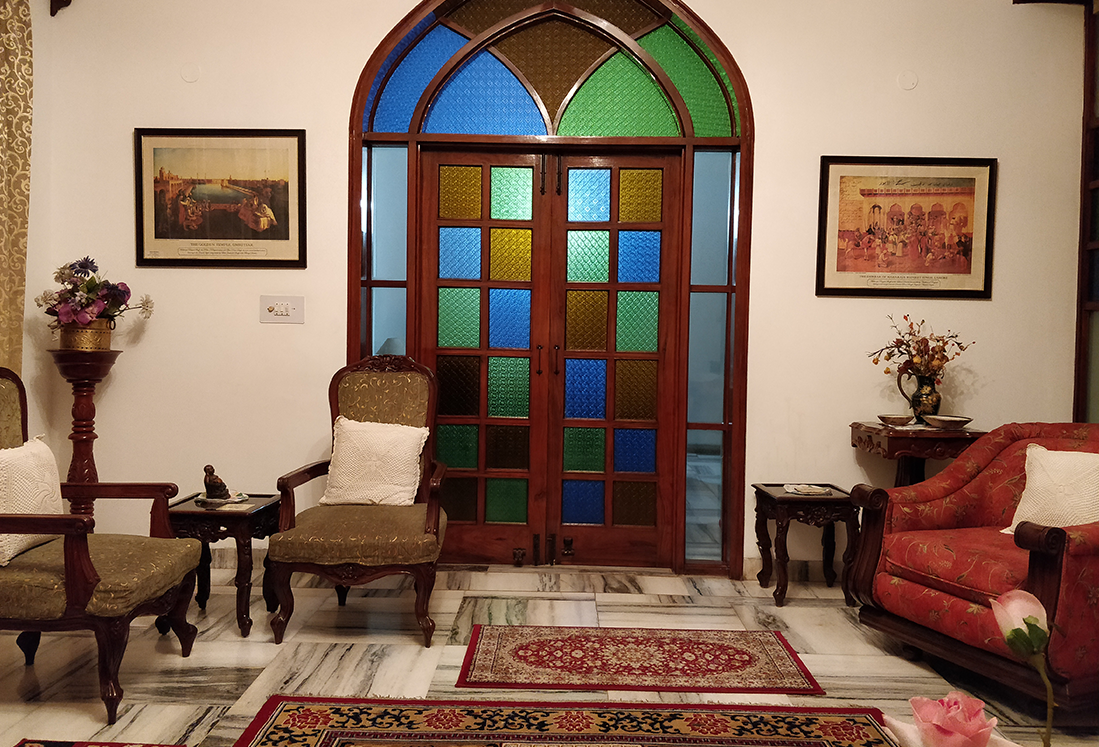 The arch domes and beautiful, coloured stained glass, giving a flavour of the Middle East style of construction
I've stayed in this house for almost my entire life and when we moved in, it was bare, except for essential furniture pieces bought from Saharanpur. Over the years, we've picked up handicrafts, ethnic vases and other décor items to make it look like it does today. Since my mother and I are born and brought up in Nairobi, Kenya, we have a lot of items with that common theme running throughout.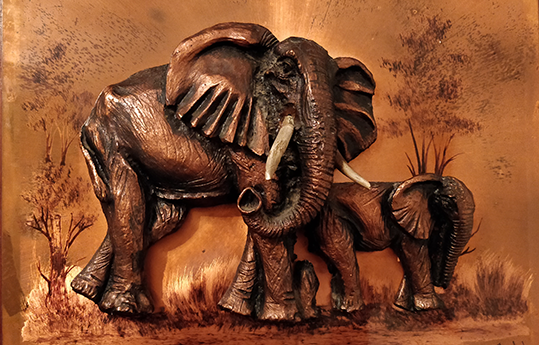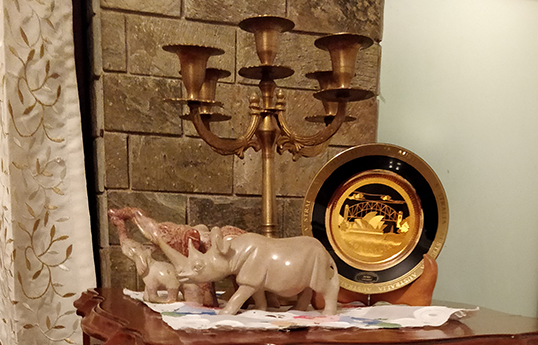 Paintings and craft from the Masai Mara region In Kenya, a part of Jasmeet's collection
My parents tried to make each bedroom reflective of the people using it. Their own room has a pastel green wall and cream marble tiles – a subtly elegant combination. My sister and I got a girly pink highlight wall and lovely peach marble floors, while my brothers' room had a lot of grey accents.
My room is the place I adore the most, and while I had to share it with my sister earlier, since she moved to her in-laws, I have it all to myself! All the furniture is from Fab India, and the ethnic printed bedsheets, pillows and assorted knick-knacks reveal my personal tastes.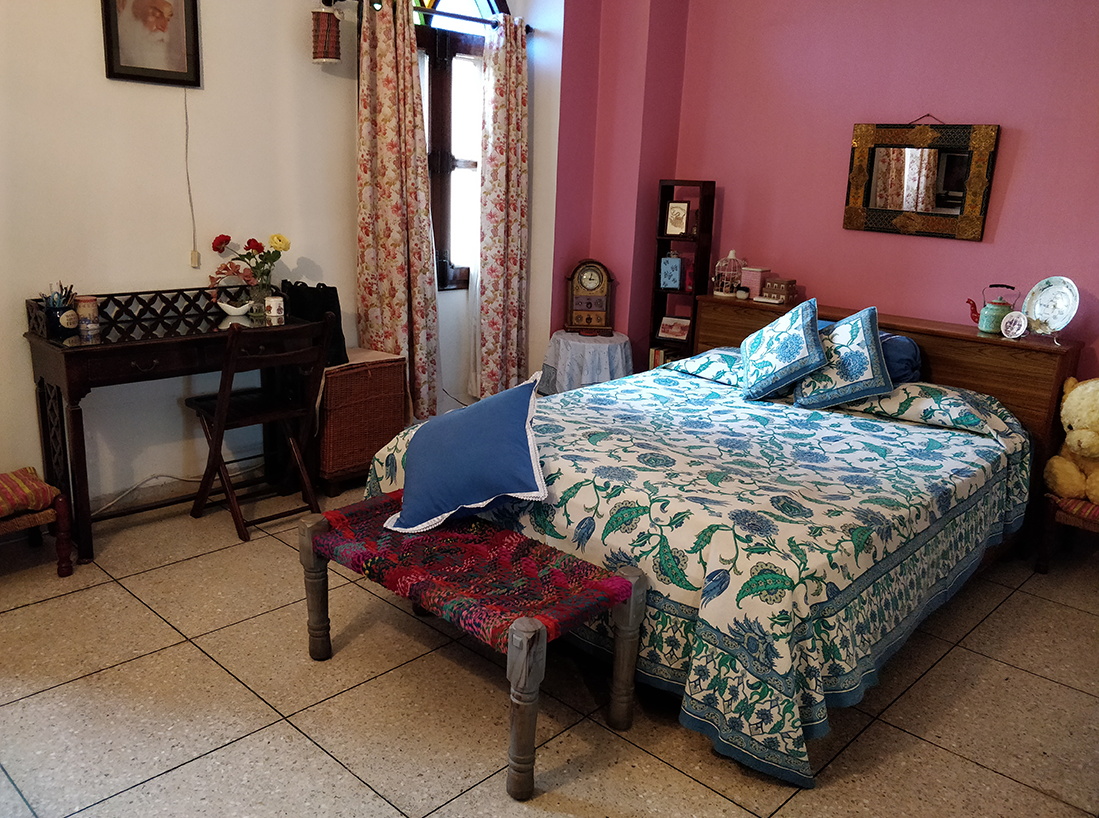 Jasmeet's bedroom
Most families spend time together in the living room, but in our household, the kitchen is the heart of our home. The marble slab in the centre is where we religiously gather for our evening tea. Sometimes, when it's just my mother and me at home, we have our dinner there too. While we have a formal dining room, this is the space that I have the fondest memories of.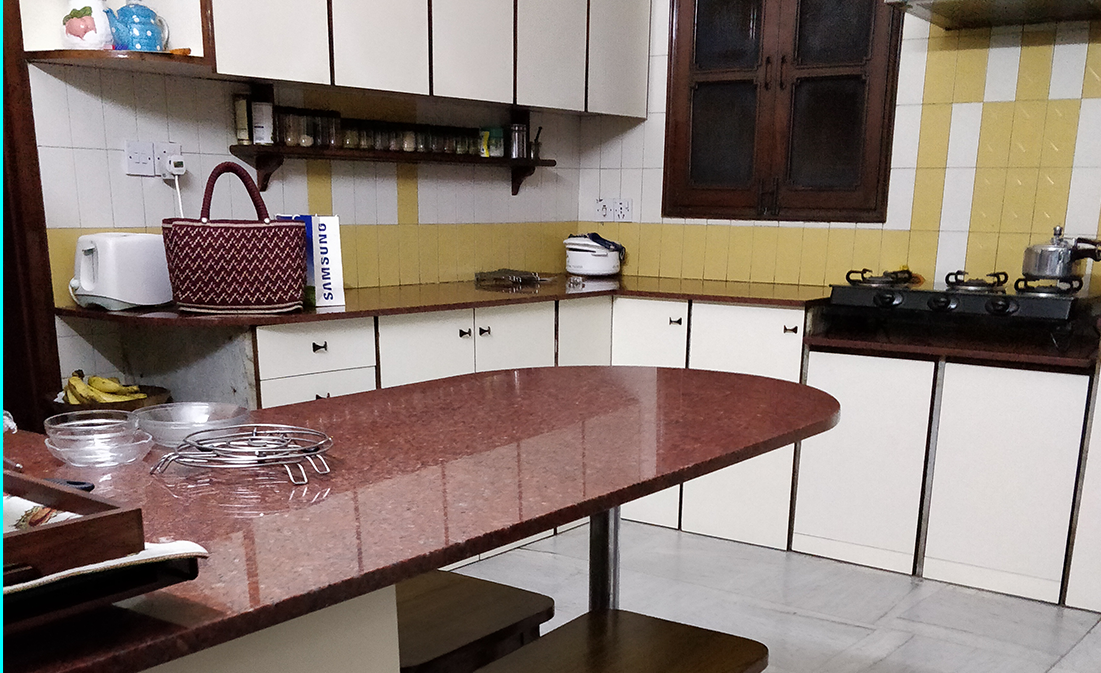 The slab in the kitchen which is used by the family to have tea
Having a beautiful open lawn is one of my favourite things about living in a bungalow. When the temperature drops during winter, we love to bask in some mellow sunshine out in that grassy patch. My mother is very fond of this area, and we have a gardener to care for it. The greenery around the house, and the cross ventilation, keeps us comfortable all through the year.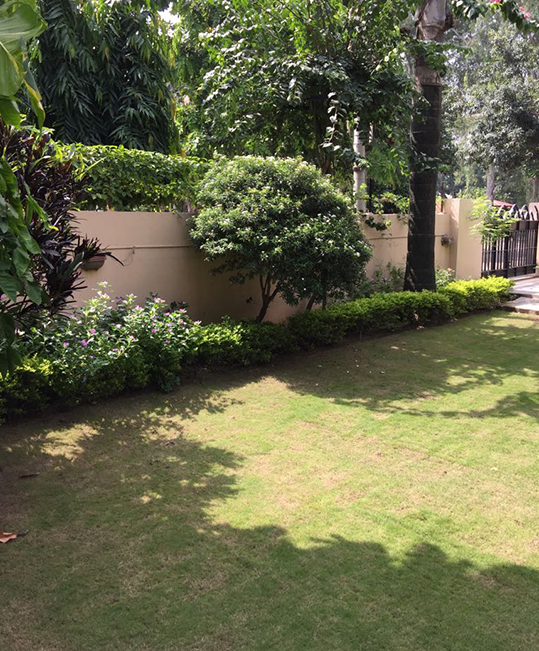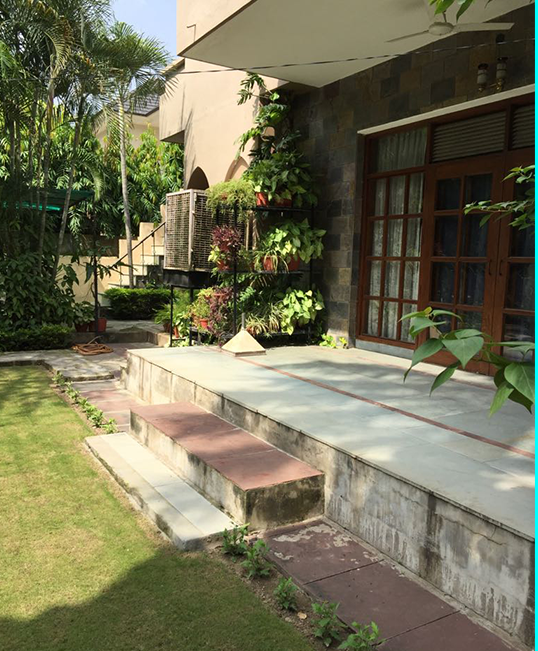 The lawn at Jasmeet's house
This house has been a true dream project for my parents, and is a labour of love for us. We almost think of it as a living entity which we all are immensely proud of.

Home calculations made easy to help you plan your home