Herbs are dubbed one of the easiest plants to grow in a garden or container. Here's how to grow and prepare 12 delicious herbs to add flavor to any dish.
Basil
Basil is not only a great addition to any recipe, but to any sunny bed or container as well. Most varieties grow about 18 inches tall, but some reach 3 feet. Add lively color to your landscape by choosing selections that have purple or bronze foliage.
TEST GARDEN TIP
Basil doesn't hold up in the cold; start it outdoors from seed only when all threat of frost has passed. Most basils have the best flavor before they bloom. Basil should be ready to add robust flavor to pasta, pizza, salads, and meat dishes about six weeks after you sow seeds. Chop leaves or use them whole as a showy garnish.
Chives
Chives are wonderfully versatile; grow them outdoors in pots or beds, or indoors as a handy flavor station near a windowsill. They do well in sun or partial sun, and their pink or lavender flowers attract butterflies.
TEST GARDEN TIP
After plants flower, trim them to encourage new growth. Snip chive blossoms below the flower and cut leaves just above soil level. Chop chives to add a subtle onion flavor to butter, cheese, dips, and spreads. It's also great in potato dishes and on breads and salads.
Dill
This pretty yellow herb is easy to grow in dry, sunny areas, and it attracts butterflies. Like other herbs, deer and rabbits tend to leave it alone. Unless you harvest all the flowers before they mature, you'll find that dill self-seeds to reappear every year.
TEST GARDEN TIP
To be sure you have a constant supply on hand, sow seeds every four weeks during the season. Dill works overtime in the kitchen. The foliage puts a tangy twist on soups, eggs, and potatoes, while the seeds are great for pickles, stews, salads, and oils.
Tarragon
Tasty tarragon will grow about 2 feet tall, and its eye-catching foliage looks great in a garden bed border. It is easy to grow and you can divide this perennial every three to four years to get more plants for free.
TEST GARDEN TIP
Cut back flowering stems for maximum growth. The tiny leaves of this shrubby plant bring an aniselike flavor to egg, fish, chicken and other meat dishes. Tarragon is also a key ingredient to the delicious French Bearnaise sauce.
Lavender
Lavender's soothing aroma and serene blooms combine to make for one calming herb. It thrives in heat and sun but doesn't like excessive humidity or waterlogged soil. Trim plants after flowering to foster further blooming.
TEST GARDEN TIP
With lavender, the darker the flower, the stronger the aroma and the flavor. The patron herb of lotions, oils, and detergents is also wonderful in teas and jelly. Dried flowers bring texture and sweetness to cookies, cakes, ice cream, and berries.
You can grow all the herbs on a window sill that gets a minimum of eight hours of direct sunlight.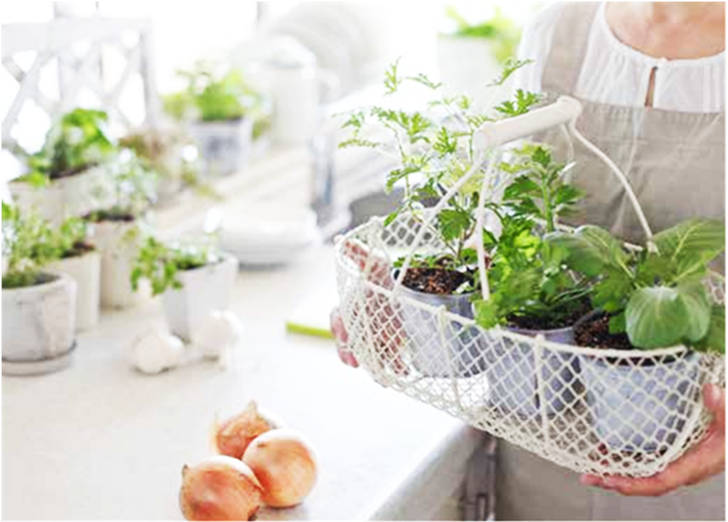 Lemon Balm
Low-maintenance lemon balm performs well in a bed or container and does best in full or partial sun. It is a fantastic insect repellent -- except with bees, who love its citrus scent.
TEST GARDEN TIP
Lemon balm is happiest in well-drained soil. Lemon balm's light, summery flavor is a refreshing addition to teas, fish, and poultry dishes. The leaves are also great in lemonade.
Marjoram
Marjoram's trailing stems are lovely in a hanging basket or spread delicately across a raised bed. In winter, it's best to bring this herb indoors; in hot summer climates a little shade in the afternoon is recommended.
TEST GARDEN TIP
For the bushiest plant, harvest marjoram frequently during the growing season. The dried leaves of this spicy-sweet herb work well as a flavoring for meats, vinegars, eggs, and tomatoes.
Mint
Mint is the alpha herb: strong, resilient, quick, and easy to grow in just about any space. As a result, it's also vigorously dominant, so consider planting it in pots to curtail unruly growth. For an instant whiff of cool, try gently rubbing the leaves between your fingers. Mint's refreshing aroma is strongest when leaves are cut.
TEST GARDEN TIP
Watch for escapees into the garden if you grow it in a pot; vigorous mint roots wherever a stem touches the soil. Mint's tasty coolness is a wonderful addition to beverages, desserts, vegetables, and meat dishes.
Oregano
Also known as wild marjoram, oregano is a bit more robust and hardy than its nonwild counterpart. This herb grows well even in poor soil, and you can put it in a bed or in a window container as part of an in-house living spice rack.
TEST GARDEN TIP
Pinch flowers from the stems to promote growing. An Italian favorite, oregano is great for pizzas, pasta or on grilled meats and seafood. It's excellent dried.
Rosemary
This evergreen shrub, a symbol of remembrance and friendship, prefers a hot, dry growing environment. In warm winter climates, rosemary can grow outside year-round, but in the North bring it inside during the cold months.
TEST GARDEN TIP
Surround rosemary plants with gravel mulch to ensure soil does not become too wet. Rosemary's fine needles can be sprinkled whole as a seasoning or crushed and incorporated into an herb blend. Its hearty, zesty flavor works well in stuffing, on pork, or on pasta and rice.
Sage
Sage is a wonderful plant that sprouts lovely blooms. It can sometimes be slow to start from seed, so sow indoors and then transplant outside.
TEST GARDEN TIP
If you let sage bloom, cut back only to beneath where buds formed. If you cut back to the woody stem, the plants may not come back. Fresh or air-dried sage leaves add a slightly bitter depth to egg, cheese, and vegetable dishes. Rub sage into red meat or poultry to add a new dimension of flavor.
Thyme
This Greek herb loves heat and sun and is a magnet for honeybees. The flavors of thyme are strongest when it grows in well-drained soil, so consider planting it in a raised bed or mulching with gravel.
TEST GARDEN TIP
After plants bloom, shear off about a third of the stem. Dried thyme leaves add savory complexity to red meat, poultry, and fish. Its flavor also works well with roasted vegetables and rice.

Home calculations made easy to help you plan your home