Diwali calls for some DIY, of course! So use your creativity and add peppy décor elements to your home on a shoe-string budget. We get you started!
1. BRASS AND FESTIVE
are an ideal pair! So the easiest but an effective way to up the décor element is by bringing out your brass plates, bowls, tumblers and using them as mithai bases, votive holders, flower vases or simply by themselves as classic decoratives.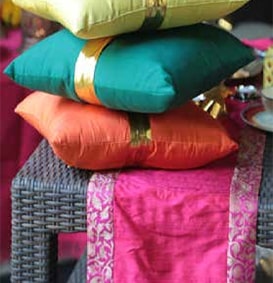 2. USE AN OLD SARI
of yours or one from your mother's collection as a table cloth. You could also cut one to the size of a runner, add a border and pair that with a plain table cover to render a traditional and festive element to your table décor.
3. MAKE PETITE PLANTERS
using old plastic bottles and discarded CDs. Cut a bottle in half. Attach the nozzle to the CD with hot glue. The CD becomes the base. Now, paint the planter in a muted gold or copper shade. Spray with clear lacquer to add a glossy touch.
4. GIVE A TWIST TO OLD BLACK AND WHITE
photographs that you have always wanted to frame. Get some clear, glass jars and bottles and stick one photograph in each carefully. Group them all on a console and place a string of fairy lights behind the 'frames' for a sepia-tinted memory corner.
5. USE WASHI TAPES
in metallic shades and wrap them artistically around all the open cords in your house. The colourful cords will add an instant cheer to those ugly corners in your room.
6. GIVE A CELEBRATORY MAKEOVER
to your old folding metal chairs. Cut a 2-inch thick sponge in the shape of the backrest and the seat. Stick the sponge to the chair with hot glue. Now, paint the chair in a pretty shade. Cover the sponges with a festive fabric of your choice. You can either stitch the fabric or hot glue it over the sponge.
7. TO REPURPOSE
a single-coloured rug, all you need is fabric paint in a bright gold shade and a stencil of your favourite motif. Draw out the motifs over the rug, spacing them equally. Now, cover the area not to be coloured with masking tapes and spray paint the motifs to give it an even coat. Peel off the tapes and enjoy.
8. Put GLUE
around a mason jar in two neat rings and sprinkle gold glitter on them. With a thick paintbrush, dust off the rest of the glitter and your sparkly jar is ready to be used, as you wish.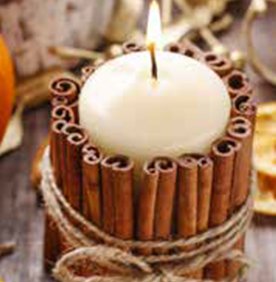 9. ADD A ZING TO YOUR FLOWER
arrangements. Just get some twigs and thin branches, dip them in glue and roll them over blue and green glitter. Let them dry completely and then stick them into your vases to give it a brand new accent.
10. Light up a drab corner
of your house using discarded wine and beer bottles. Remove all the labels and group the bottles together or line them up straight. Now, take a string of fairy lights and start stuffing each bottle with them. Use only a single colour light, otherwise the space will look too cluttered. Light up and get your twinkling corner, a perfect place to relax.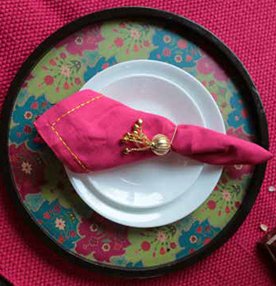 11. IF you have a glass top
coffee table, hot glue an interesting handmade paper or a piece of brocade cloth under the glass. Enjoy your unique table for hosting!
12. TURN YOUR GLASS DISHWARE
into a stunning art work. Use painter's tape on the back of clear glass plates to create a chevron pattern, paint and then remove the tapes to let the paint dry completely. Coat with a clear sealer!
13. IF you have lace doilies
lying around unused, turn them into a stunning table runner. Choose a shade that you want the runner in, then dip-die each doily in various shades of the same colour. Let the dollies dry completely. Finally, stitch them together, lengthwise and breadthwise, to create a beautiful vintage runner.
14. RESORT TO STENCILLING
with a metallic paint to transform a regular chair into a talking point for the season.
15. GIFTING? Add an indian touch
to it by using simple coir boxes available in the markets and decorating them with minimal but real flowers.

Home calculations made easy to help you plan your home