Learn the long-established art of sowing and growing plants together—better known as companion planting, and boost growth.
Conventional wisdom dictates growing one plant in one pot. While this may look symmetrical and neat, it is not really beneficial for the soil. Companion planting is probably the best way forward. But before knowing what companion planting is all about, it is vital to understand nature's most productive ecosystem, the forest. Teeming with life, forests provide shelter and food to a mind-boggling diversity of living beings, including us humans. Each living organism lives in a symbiotic relationship with the other— plants, insects, animals, grass, microbes, subterranean fungi, amongst others. The death of one creates food for another, and hence, one plant can promote another one's life.
IDEAS FROM FORESTS
Different families of plants need different nutrients from the soil; they don't necessarily compete. In fact, they can help each other (and us) in pest control, pollination—by using space effectively—and promote high yield. Certain plants, however, do compete with each other to win favour in the process of evolution.
PLANT FAMILIES
With a basic understanding of plant families, and a little wildness in our hearts, we can learn to pair species that love growing together. Here is a list of different plant families:
1. SOLANACEAE OR NIGHTSHADES
The most common edible plants in this family are tomato, brinjal, chilli, capsicum, potato, and lady finger
2. GOURDS
These summer veggies love to sprawl on the ground or climb on trellises. Bottle gourd, cucumber, ridge gourd (tori) and apple gourd (tinda), are household names.
3. ALLIUMS
This family comprises onions and its relatives, like garlic, chives and leeks.
4. LEGUMES OR FABACEAE
These plants with edible pods include French beans, peas, black-eyed peas, fenugreek seeds and broad beans.
5. BRASSICAS
This 'cabbage family', includes lettuce, cauliflower, cabbage, and mustard. They usually have yellow flowers and a stalk that shoots out from the plant's centre.
GOOD NEIGHBOURS
Here's a list of plants that can be grown together successfully:
CUCUMBER AND CORN
The cucumber plant sprawls over the ground or climbs up a grill, while corn grows vertically.
CORN AND BEANS
The latter attract beneficial insects that prey on corn pests, such as leafhoppers and leaf beetles. Plus, bean vines climb up the corn stalks.
AMARANTH AND BRINJAL
Amaranth can be cut multiple times, while the brinjal matures and starts giving fruit.
TURMERIC AND CORN
Turmeric loves the shade created by the corn stalk.
CABBAGE AND DILL
The herb attracts wasps that control cabbageworms, and other pests.
RADISH AND SPINACH
Planting radish with spinach will keep the leaf miners away from it.
CORIANDER AND TOMATO
The flavour booster deters tomato pests and takes care of its nutrients.
MANAGE SPACE AND TIME
The rule of thumb for growing companion plants is to never grow plants that belong to the same family together. Find out how much space and time each plant will need to grow.
TIME
Each variety of plant takes its own time to grow. Some sprout and burst into shape within a week, and others slug along for about a month before putting on some muscle. When combining plants, be careful that you don't put a slowcoach and a speedster in the same batch.
SPACE
Different plants occupy different space around them in a diverse way. Some rise vertically and then spread out laterally, some reach out for a little support, some grow deep into the ground, while others sprawl themselves across lazily over the ground. Try to pair plants so that they don't intrude onto each other's space, and don't fight for sunlight and other requisites.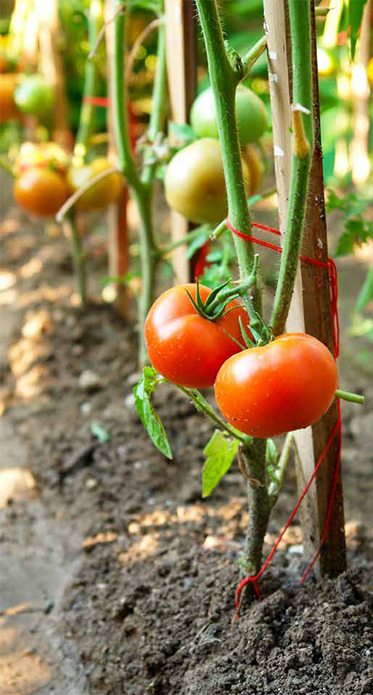 Once you understand the space and time occupied by different plants, you can combine them successfully. For instance, you can grow lettuce and tomato together. Lettuce is from the Brassica family and tomato is a nightshade; this means they won't compete for nutrients. They use different root zones; lettuce being shallow-rooted, while tomato has a relatively deeper root system. Lettuce grows just above the ground, and its saplings can be planted in close proximity to each other, whereas tomatoes grow relatively 'tall'. Once fully grown, the lettuce will enjoy the dappled sunlight created by the tomatoes 'cover'. In about 60 to 90 days, your speedy lettuce will be ready for harvesting, while the slow-growing tomato will have only just matured, and begun to give fruit, and will continue to do so for the next 90 days.
TRADITIONAL PLANTING
I came across an amazing traditional planting combination during a visit to Dehradun, last year. Six plants—ginger, turmeric, chilli, pigeon pea, colocasia, and corn—were planted together in the same space. These plants are not only from different families, and use space well, but the harvest of these various plants is staggered over a few months. This ensures a continuous supply of produce through the year. Ginger, turmeric and colocasia are slowgrowing underground tubers, while corn, pigeon pea and chilli grow relatively quickly, vertically. Each of these plants is from a different family: while chilli is a nightshade; corn is a type of grass; and pigeon pea is from the legume family.

Home calculations made easy to help you plan your home