We bring to you 16 ideas to refresh, reinvest and upscale your home.
1
HANG THOSE HEELS IN STYLE
Are you ready to throw out those old window shutters? Don't do that just yet. Read on. All you need to do is paint them a funky colour and hang them as shelves on your wall. Or join two of them to form a V shape and use it as a shoe rack for those stilettos.
2
CREATE STATEMENT CUSHIONS FOR FREE
Put your sewing machine to good use. That's what homemaker Divya Sharma did when she got tired of 'treasuring' her husband's floral and funky shirts that he claimed he would someday wear. First, she cut off the sleeves and collar. Then, she sewed each shirt into a cushion cover. Voila! Repurposing old clothes has never been easier. So what's your recipe for statement cushions?
3
AIM FOR ECLECTIC ELEGANCE
A cyan sofa-cum-bed, a floral couch and a glass dinning table, together with a smattering of electronic devices, lamps and corner tables- sounding mis-mashed? Well, that's the way ahead in the décor world. Says interior designer Aanchal Gulati, "Don't be afraid to mix décor styles and origins, however, be careful of placing only one or two statement pieces around the room. Eclectic is never boring and is always timeless."
4
MAKE YOUR HOME YOUR HAPPY HAVEN
Let your home resonate with happiness by choosing furniture and soft furnishings that depict celebration. "Make sure your selection of curtains, upholstery, table mats and even tiny things like tissue box covers and curtain ties contribute to your daily joy," suggests fashion designer Varija Bajaj. Use joyful prints, colours or trimmings.
5
EGG IT ON
Add some colour to your kitchen window sill with DIY planters. To make these miniature pots, break a couple of eggs carefully, from the top, and pour out the egg, making sure that the egg shell remains intact. Paint the shells, then tap the bottom of the shell to make a vent. Place the herb sapling in it, along with a little soil. Press it down firmly, but gently. Now, place this in a tea cup and keep it on a window sill that receives a lot of sunlight.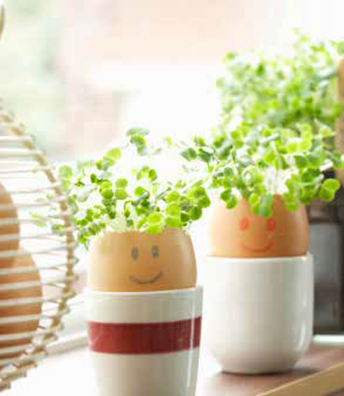 7
PURE-IT
Purify the toxic air inside your home by adding some common plants. Interior designer Preeti Knowles suggests Erica palms, a money plant and mother in law's tongue, which are best for indoors. "You will just need to take them outdoors every week or ten days," she adds.
8
ENJOY THE JALI WORK
Have an old jali frame lying around? Here's how you can put it to good use instead of discarding it. Pin it up above your kitchen station horizontally and use it to hang pots and pans. It's easy to clean and keeps everyday utensils handy.
Tech talk : These technology tips will take the stress out of living.
9
GET SOME ROBOTIC HELP
Do you spend most of your day cleaning your house? Or have inefficient domestic help? Home robots are here to save the day. Get one to clean, mow the lawn and provide expert surveillance.
10
AUTOMATE
The décor world too has become automated. With smart curtains, lights and air-conditioners, home automation has gone a step further in making your life simpler, says Amita Kanwar, creative director, Window Passions. You can also pair different gadgets to each other for faster networking. For instance: Pair your television, computer and mobile phone to use these gadgets from any room easily. So your child can watch her favourite cartoon show on your laptop or play mobile phone games on the television!
Good to buy : These fantastic innovations will make your life simpler.
11
SENSOR DUSTBINS
Did you know that you can now have a pretty, clean garbage bin that opens with just a wave of the hand and also fingerprint proof? These smart dustbins have built-in sensors that keep your garbage area clean without you having to touch the bin.
12
SMART WATERING SPRINKLER
A must buy if you want to maintain your garden at its optimum level. Install one to save on water too as the gadget has regulators and timers.
13
TRANSFORM JUNK INTO ARTEFACTS
A colander can become a statement lamp when given a coat of bright paint and hung upside down, fitted with a CFL kit. Non-stick pans can be converted into handy and cool clocks, trays, and planters. And spoons that have lost their mates and match no set, can turn into funky hooks or holders, post bending.
14
UPCYCLE & INNOVATE
Holding on to those ancient cassettes? Throw away the tapes and use the album covers as cheerful gift card or voucher boxes to present cards in style. All you need to do is give it a facelift with some craft paper, glue and colours, and you are ready to proudly pass it around.
15
REPURPOSE ARTFULLY
Convert old tennis or squash rackets, which usually come with solid wooden frames, into quirky chic mirrors—perfect for adding an athletic accent anywhere or for lending a cheeky sporty vibe to your kid's room. Just get a custom-cut, bevelled-edge mirror that fits inside the racquet's rim and then press the mirror down on the strings. Let it dry and your statement mirror is ready!
16
create a bookish coffee table
Have a pile of unused books lying around? Use them to make an innovative coffee table. All you require are two different sizes of wood planks, a pile of hard cover books and a strong glue. Place the smaller wood plank on the ground and glue the biggest book to the plank. Now, glue one book on top of the other in a zig-zag fashion, since the books may fall if placed in a line. Place about 10-12 books and let the structure dry naturally and become sturdy. Then fix the other plank across the book pole and finish with a glass table top.

Home calculations made easy to help you plan your home