Stuck with those awkward corners and nooks in your home? Here are some simple and doable ideas to make them stylish, classy and functional.
When we furnish our home, empty corners in a room, more often than not, can be the trickiest part to work with. They're too small for any significant piece of décor and yet too big to be left empty. Thus, they not only look jarring to the eye, but also look like a faux pas.
The best way to fill up these spaces is to segregate them into either of the following categories: Functional, decorative or extra space. Once you have them categorised, it's time to look at the dimensions and make the best possible use. We present some easy and practical ideas that are light on the pocket and turn your space into a fabulous corner.
ladder shelving
Ladders are a great way to fill up an awkward corner. Plus, they provide shelves to stack all those things that don't have a space in your room. Get your handyman to fix shelves onto a simple ladder, spray paint it to complement the room and place it in the desired corner. Finish by placing knick-knacks or small indoor plants.
bookworm's bliss
Create an intimate reading nook with the help of a comfortable wing chair or a single-seater sofa, together with a floor lamp and a tiny side table (for your coffee or wine glass). You can also make this arrangement in front of a window to maximise on natural light. Place an interesting rug in front of the chair and your 'me-time' area is ready.
small wonder
Create a cosy dining corner by placing a small round table and a couple of stools in it. This instantly transforms the nook into a functional space. What's more, it can be used by your little one as a study or crafts table.
picture perfect
You don't need a large wall for your dream gallery—a corner works just as well. Create one using your favourite photographs and place them artistically on the corner walls. Spotlights or soft LED wall lights add a warm essence.
floating tales
Sometimes, the corners are so awkward that you cannot fit anything. In such cases, all you need are floating shelves and small cabinets. Fix the shelves and cabinets on the wall. Despite not occupying much space, these work as great storage corners and can be fixed to fit any dimension.
go green
If you're not interested in building shelves or doing anything dramatic, here's a simple solution: Add a small but interesting tree, which brings dimension, texture and that much needed dose of greenery. Alternatively, you can group small-sized house plants in the corner in quirky planters.
vignette vine
Another go-to idea to decorate a corner is to create a vignette. A small table, wall art and a few display items are all it takes to create a beautiful accent. To create your own themed display, decide on a base (like an old sewing machine!), and change it occasionally to reflect your mood. The wall art could even be an accent mirror. You can use this vignette to store extra liquor or wine bottles or even set it up as a quirky bar.
SPRING SCENT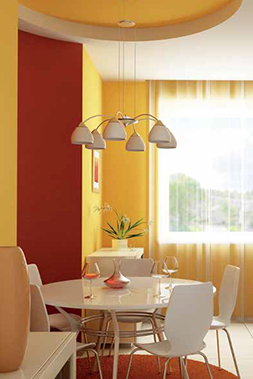 Place a quirky vase with fresh flowers to add panache to a window seat. The room too will smell fabulous!
command station
Turn an awkward corner into a home work station. Add a sectional table with a small chair, shelves to hold necessities and a corner table to place your coffee machine. Round off the look by fixing a classy pendant lamp for your late-night work deadlines.
library leisure
Unused wall space makes for a great backdrop for a bookcase. You can also install parallel floating shelves to create a wall-to-wall book shelf. Use quirky bookends on each shelf to mark and segregate different genres. What's more, if you have still have space in your little corner, place a small couch to relax with your favourite read.
kitchen style
Add a corner sink to utilise an odd corner in the kitchen and give it a useful nudge. If the corner feels like a small room within a room, don't worry! It is just the perfect place for a butler's pantry or storage. Again, floating shelves here not only give you extra storage space but also provide you with the opportunity to display your precious and attractive chinaware in style.
hang in there
Did you know that you could use your clothes and bags as a décor accent? Place a hanger or an open rack in the intended corner and use it to hang your clothes — think long coats, jackets, shirts or saris. Make sure that these are the outfits you use regularly or they will become dustcatchers. If you have a tall corner, you could even hang your various handbags at different levels and create a kind of a shop display! The plus side: All your bags are in view and you can easily change them, without forgetting where you last put them.

Home calculations made easy to help you plan your home