Give your home a Scottish twist with the classic plaid fabric.
Although often considered an exclusively classic pattern, plaid has started to work up the courage to break into modern homes with a contemporary flair, which is completely its own. Blown out scale, bright, unconventional colours, and the layering of styles have brought this once-ubertraditional pattern into the millennium with panache. Because it's a classic, plaid also endures as a no-fail pattern for more traditional tastes.
PERSONALITY POP
If something still feels slightly "off" in your space, it could be a lack of dimension. One of the most effective (and not to mention, affordable) ways to infuse dimension into a space is through pattern. Plaid gets the job done with a seemingly limitless array of colour mixtures and scale combinations. You can use it as drapery fabric, throw pillows, bedding, and even wall coverings. Introduce an oversized pattern for the greatest impact. Imagine just for a moment that this room did not have the plaid finish on the wall.
THE LINEUP
Plaid is one of the most multi-dimensional patterns there is. Whether it's tartan or tattersall, gingham or check, there's little argument against the fact that plaid could work its way into just about any type of unique decor. For sleeker styling, choose a favourite plaid scheme and use it in the room as a focal point in a sofa or accent chair. Or, if your tastes are eclectic, play with different types of plaid on anything, like pillows and drapes. When kept to the same colour scheme, the combination of patterns will feel cohesive, not overdone.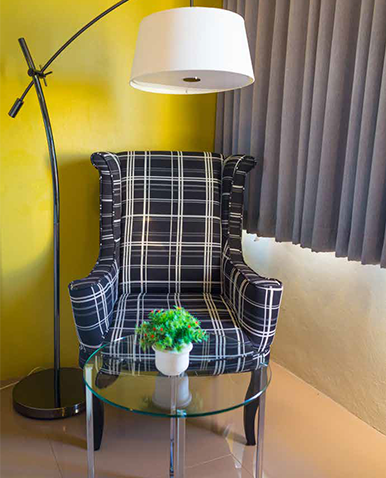 ACCENTS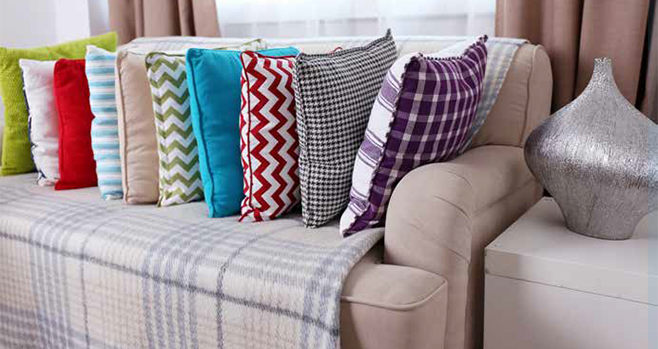 Pick your favourite plaid and use it on throws, cushions, curtains, etc.
MULTIPLE STYLES
Plaid is an eclectic stylist's dream. Bridging the gap between modern and traditional décor, it truly runs the gamut in terms of design. Keep the pattern tight with a handful of colours to achieve a classic look, or go more modern with an oversize print in just one or two colours. The latest trend you may have picked up on is the inclusion of thin metallic accents in plaid. Suddenly, we're seeing a pattern that used to work exclusively in historic homes find its way into the most glamorous of settings.

Home calculations made easy to help you plan your home