Take small steps to adapt a more sustainable, smart and eco-friendly lifestyle

Find the key to striking the right balance between aesthetics and utility in everyday objects.

Transform lifestyle habits to improve your quality of living; Invest in energy efficiency.

Give your home the eco-friendly re-haul it deserves; plant more trees, stop using plastics.


Use resources optimally and stay true to the concept of recycle, reuse and reduce.
Life as we know it has forever changed and along with it, so have our priorities. To make for a better future, it is our responsibility to uphold and preserve the resources we take for granted today, for our future generations. A simple way to do so is to take a "sustainable" approach to life. A buzzword making its way around town, sustainability not only concerns the preservation of forests, water bodies, and other natural resources but also trickles its way into our everyday lives. Making minor adjustments to our daily routines, commutes, and homes could make a huge difference in the long run. And as all good things do, efforts for a better future too should begin at home. Read on to find quick hacks on how to make an eco-friendly house and, along with it, eco-friendly things to do at home!



1. With More O2, We Grow Too

City life has us all complaining about rising levels of pollution and lack of greenery. A good way to tackle this issue is by growing and nurturing house plants and harvesting micro kitchen gardens for herbs and small vegetables. Not only do they add to your home's aesthetic quotient, but they also provide fresh, clean air to you and your family. It is recommended to start small with a few house plants in your balcony and window and work your way up to a kitchen garden and make the best of your produce – it's a win-win situation!
2. Plastic is not fantastic!
One of the largest contributing factors to environmental pollution worldwide, plastic is most definitely a no-no. Take it upon yourself to make your home a 'No-Plastic Zone.' Take the first step by replacing plastic bags with jute or cloth tote bags and using glass bottles instead of the mounting number of single-use mineral water bottles in your room.
3. Light it up right
While they cost a few bucks more than your average light bulb, the payoff you get from investing in energy-efficient LED lights makes a difference. Not only will you save big on those chunky electricity bills, but it also lasts much longer than the average lifespan of an ordinary light bulb, making your home instantly more eco-friendly.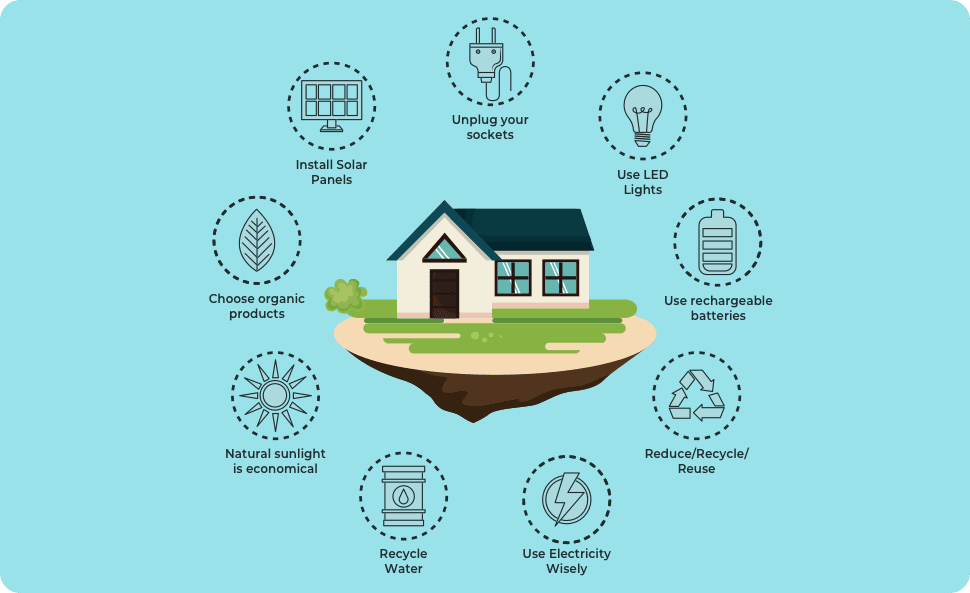 4. Work your water
There are several ways to recycle water at home such as not throwing away the water you used to wash your fruits and vegetables. Instead, use it to water your outdoor plants or wash your balcony/terrace or window area. Pro tip: Try opting for rainwater harvesting. One way could be by leaving out small buckets to collect water during rainstorms to use later.
5. The sun is your friend
And in more ways than one! Solar panels are a top-tier feature for any home that's on its eco-friendly journey. Certainly a long-term investment, solar panels provide you with clean energy and save you thousands if not more in hefty electricity bills. Harness the power of the sun right; we've only got one!
6. Decor that takes you to another time
Vintage pieces are all the rage these days, and for a good reason. Not only do they add a certain old-school charm to your space, if taken care of properly, but they can also be passed on further, reducing the need to purchase new furniture and taking a step further down the sustainability route.
7. Be a smart consumer
Manufacturers are constantly innovating and working towards low-energy, high-performance machines and electronics. Give your home a smart yet eco-friendly upgrade when investing in large appliances like ACs, washing machines, and more. It may help to do your research and opt for alternatives and brands that use less energy while delivering big on results.
Wondering how to make your home environmentally friendly? Small steps go a long way. Start the change today!

Home calculations made easy to help you plan your home